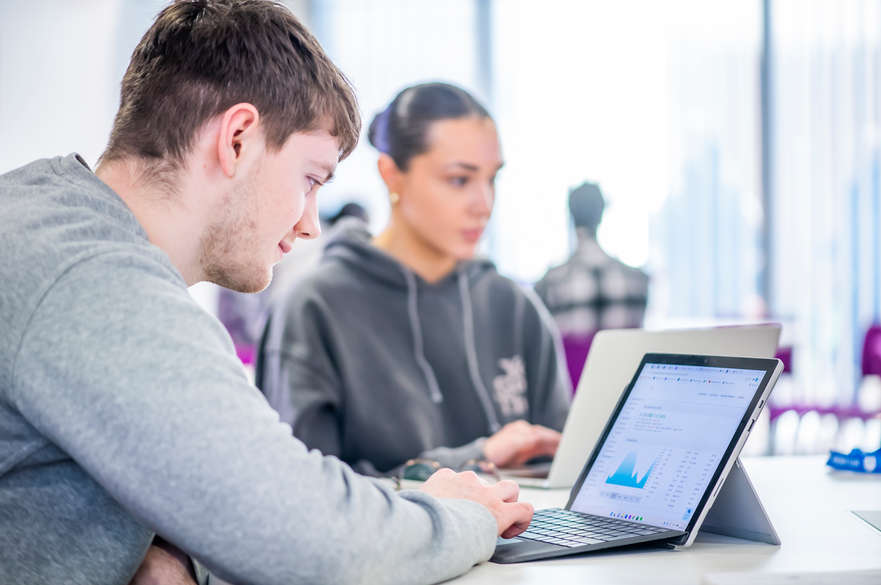 Starting at NTU
Finance, MSc
Welcome to your new course and your new life as an NTU student. We've gathered together all the things you'll need to know to help you settle in here – have a read through and start thinking about how you're going to engage with your subject.
My course
Welcome from the team
A warm welcome to the Masters in Finance Programme from your Course Leader Jane Reeves. You will be joining a team ready to provide you with a high-quality postgraduate learning experience together with practical business insight through the use of case studies, simulations and our real-world company consultancy project. You can read in more detail about the programme by visiting Finance MSc Postgraduate taught Course | Nottingham Trent University.
The course responds to the growing importance of finance as a critical component for the success and sustainability of any organization. The course is designed to provide you with the necessary knowledge on the core aspects required to work in the context of global finance. These are covered through the core modules of the course.
The course should allow you to put theory and contemporary thinking into a practical finance setting. The emphasis is on applying knowledge, skills and techniques to analyse financial instruments and markets. The major project gives you the opportunity to apply the knowledge and analytical skills you have acquired on the course to make recommendations to the senior managers of a real organisation on a business issue.
This course is well respected by employers who expect our graduates to be able to demonstrate the qualities of self-motivation and self-discipline as well as being able to apply their knowledge. We expect these qualities as well and will work closely with you in developing your management expertise. Our Global Responsibility Week and regular external speakers are all provided to help you develop your professional skills and wider business knowledge.
We look forward to welcoming you this January to join our Business School community.
Contacts
If you have any questions you can get in touch with us via email (see links below) or by calling +44 (0)115 848 8460.
Course Leadership Team for MSc Finance Suite
Jane Reeves, Vangelis Tsiligiris
Course Administrator
Regaynor Johal
+44 (0)115 848 4563
Pre-arrival activities
We would like you to complete a small task before you come to university to help you prepare for your course.
Purpose
The purpose of the activity below is to allow you to develop a basic understanding of the recent and potential future developments in finance. Additionally, this activity is a self-directed independent study, which reflects the way you are expected to study and learn during your time as postgraduate student.
Activity
Use a range of good quality resources to gather evidence that would allow you to provide a well-evidenced response to the following questions:
How finance has been impacted by Covid-19?
What are some of the anticipated future challenges in finance?
Some of the resources you could use are:
Financial times
Bloomberg
Wall Street Journal
The Economist
Morningstar
Please prepare a PowerPoint presentation with your findings/answers. During the first module of the programme, we will invite you to present your answers in the above questions and participate in the class discussion that will follow.
Link to course induction or later teaching activity
This activity will feed in the introduction of the Global Financial Markets module, which is the first module you will study.
Timetable
Your course induction has been designed to introduce you to your course content and tutors. You will also meet your personal tutor and peers in your tutor group.
Take a look at your induction timetable.
You will find the most up-to-date version of your course timetable in NOW - your personal online workspace. Please note that you will need your student number and the password that you have created for yourself when you enrolled to log in to NOW.
For further information about enrolment, please take a look at the Starting at NTU enrolment pages.