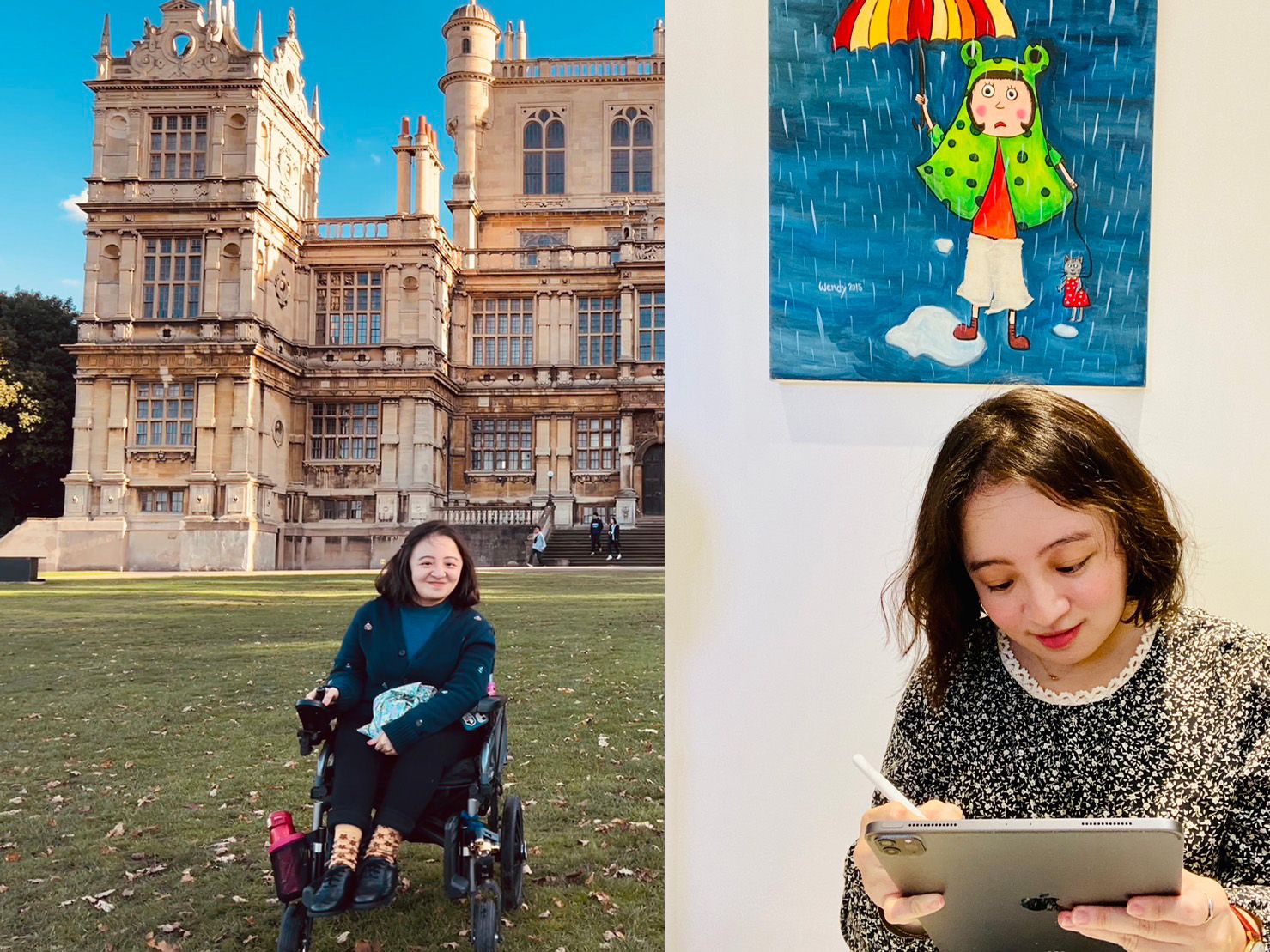 Shou-Yu (Wendy)
Wen
Taiwan
My first impression of NTU was that all the lecturers and staffs are so friendly. They are willing to help students when they have difficulties and give more patience towards international students
More about Shou-Yu (Wendy)
Tell us about your name, where you are from and what course you are studying?
"My name is Wen, Shou-Yu (Wendy). I am from Taiwan and currently studying MA in illustration."
What was your first impression of NTU and Nottingham?
"My first impression of NTU was that all the lecturers and staffs are so friendly. They are willing to help students when they have difficulties and give more patience towards international students. About Nottingham, the facilities are much better than I expected especially the accessibility. It is a nice place to live as the cost of living is lower and people here are kind as well. In addition, NTU is conveniently located in the city centre, so we can get food and groceries on foot."
Why did you decide to come to NTU?
"The reason I chose NTU was that there are a lot of resources for students to explore and the accessibilities are well-developed which is important for me as I need to depend on my electric wheelchair when I go out. Also, before coming here I had some questions about my course and the accommodation, and I could get replies within 3 days by email, which makes me feel warm and efficient."
Where do you usually go during your free time?
"I usually go to the Victoria Centre because there are many stores. Sometimes I buy some daily necessities in Tesco while other times I just look around and do some shopping. Waterstone, the biggest bookstore in Nottingham, is one of my favourite places to go as it has a lot of lovely children's books that I can gain inspiration from."
Can you describe the support you get from NTU?
"The support I got from NTU was the scholarship, which reduced the burden on my tuition so that I can fully focus on my study. Apart from that, I also got support from the accommodation team which provided an accessible room for me. The room is bigger and is accessible for my wheelchair."
What is Nottingham like for international students? E.g. entertainment, food and necessity?
"There are lots of restaurants and cuisine for international students, including Chinese, Japanese and Indian. If you want to buy Asian food ingredients for cooking, there is an Asian market near our campus, which is very convenient."
How was your experience living by yourself? And what is your advice for new international students?
"Before coming to the UK, I was nervous about staying in the UK alone because I don't have any acquaintances here. But when I got here, I found it is a nice place to stay and I don't even want to go back home. People here are very nice and there are many activities for international students to join so you never feel bored."
What's it like making new friends/acquaintances at NTU?
"NTU students are all very kind and it is like a small global village, including many students from different countries. There are various welcome events for new students to participate in to make new friends and become more familiar with the environment."
What do you like the most while studying at NTU and why?
"I really enjoy my MA course and there are a lot of resourses and printers for students to use. I try my best to join those events and facilities, but there are too many that I hope my course can extend one more year."
How was your experience applying for the scholarship?
"The process of applying for the scholarship is easy. We just needed the fill out the form and uploaded some information. It didn't take me a long time, and NTU provides many kinds of scholarships, including one for international students."
What was your reaction when you know that you received a 50% scholarship?
"When I received the NTU email with "Congratulation on your 50% scholarship", I was so surprised that I couldn't even believe my eyes and I got goosebumps on my arms. I really appreciate that NTU gave me this scholarship and encouraged me so that I can lighten my financial burden and concentrate on my study."
What difference has being awarded the scholarship made to your University experience?
"Being awarded has made me feel proud and more confident. It is my pleasure to get the 50% scholarship, which is the highest award among the NTU scholarship."
How did you prepare for the Scholarship and what do you believe differentiated you from other applicants who applied for one?
"Luckily my illustration has been longlisted in the World Illustration Award so I added this award to my portfolio and also show my expectation of studying at NTU. Showing our strength is important for the application. I was lucky as I got the illustration award and also published several children's books this year, making my profile more impressive."
How did your family react when you won the scholarship?
"My parent was also very excited and surprised when they knew I got the scholarship. They said I was so lucky, and they appreciated NTU for providing me with the scholarship."
Still need help?
+44 (0)115 941 8418
Related student profiles
STUDENT PROFILE

Photography

United Kingdom

https://www.ntu.ac.uk/study-and-courses/courses/our-students-stories/art-design/adam-deakin

STUDENT PROFILE

Fine Art

United Kingdom

https://www.ntu.ac.uk/study-and-courses/courses/our-students-stories/art-design/alasdair-ambrose-thurston

STUDENT PROFILE

United Kingdom

https://www.ntu.ac.uk/study-and-courses/courses/our-students-stories/art-design/alice-clough