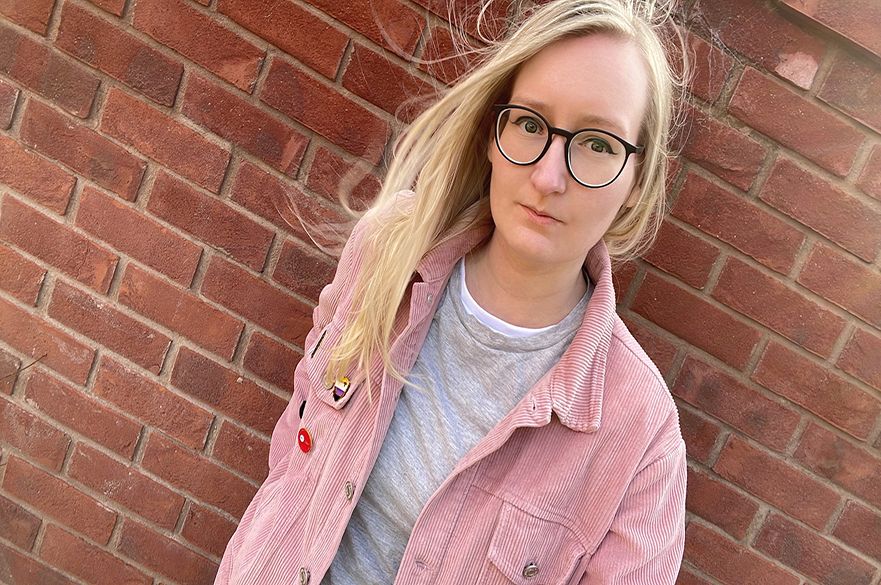 LD
Lapinski
United Kingdom
Besides being published, which is something I've wanted since I was five, being told that my books are going to be translated into other languages is a real dream come true
More about LD
LD Lapinski graduated from NTU in 2014 with an MA in Creative Writing. With their third children's novel having just hit the shelves, we caught up with LD to find out about their work, tips for others considering a career in writing, and to hear stories of their inspirational tutors.
"Since leaving NTU, I've moved from teaching to copy writing to being an author, which has always been my dream job," they say.
"Besides being published, which is something I've wanted since I was five, being told that my books are going to be translated into other languages is a real dream come true. My books are all about journeying to exciting new places, and with travel being so difficult in the last couple of years, it's great to see the books are better travelled than I am!"
Thinking back to their early days of professional writing, LD clearly remembers some of the challenges and setbacks they had to overcome. They say: "My debut novel, The Strangeworlds Travel Agency, was the third book I'd had on submission to publishers. The time just wasn't right for the first two manuscripts, but in fairness I do love this series the most out of anything I've written. My agent, who is the most important person in my professional life, has always encouraged me to keep going and to write what I love."
Looking back on the skills and experiences LD learned at NTU, they're in no doubt these played a big part in their subsequent success as a writer.
"I loved studying at NTU, so much I went back to do my Masters after my BA. I think it's a really nice place to study," they say, "and the MA gave me a lot of opportunity to really hone my writing. It was actually the manuscript I wrote for one of the modules during my Masters that got me a literary agent. And I wouldn't have been brave enough to even try to get one without the support and encouragement one of my NTU tutors – the late Graham Joyce."
Since leaving NTU, where does LD find their inspiration these days?
"From other artists," they say. "You can't write well if you don't absorb stories from other people, whether that's from books, films, music or video games. I've always loved stories, and everything I am a result of other people's art."
Looking back, LD has some frank advice to current students, especially when it comes to preparing for exams.
"In terms of revision, my advice is quite simple: remember to do some!" they laugh. "I was really terrible at revising and exams in general, I was always better at essays and coursework. I remember one time where we could take notes in with us, and that's the only time I've ever not dreaded an exam!"
And what of those currently considering a writing career, or dreaming of their first commission?
"Persevere," LD says emphatically. "If you have a dream, keep seeking it, even if life doesn't go quite how you thought it might. You only get better at what you do by doing more, whether that's writing or any other skill – experience is something you can create for yourself by practicing and honing your skills."
Creative Writing courses at NTU
Our seasoned community of writers, poets, authors, researchers, linguists and guest lecturers will guide and inspire you, consolidating your skills and knowledge.
Still need help?
+44 (0)115 941 8418
Related student profiles
STUDENT PROFILE

Philosophy (by research)

United Kingdom

https://www.ntu.ac.uk/study-and-courses/courses/our-students-stories/arts-humanities/adam-dorsey

STUDENT PROFILE

Research degrees in Arts and Humanities

United Kingdom

https://www.ntu.ac.uk/study-and-courses/courses/our-students-stories/arts-humanities/amy-williams

STUDENT PROFILE

Creative Writing

United States of America

https://www.ntu.ac.uk/study-and-courses/courses/our-students-stories/arts-humanities/ashley-silvey