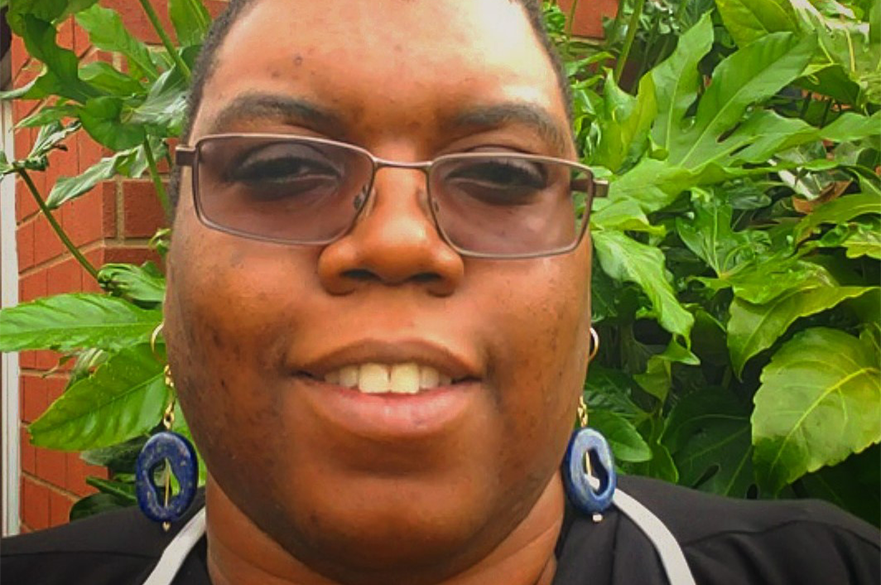 Bryna Graziana
Broady
United Kingdom
I returned to NTU's Clifton campus twenty years after first graduating and I was home.
More about Bryna Graziana
Bryna says, "boxes are for things, not people". That's why after completing a Biomedical Sciences BSc in 2001, she returned to NTU to pursue another passion – an MA in Creative Writing. Bryna isn't stopping there, having also enrolled in a short course in Interior Design with NTU, due to begin in the summer of 2023.
We caught up with Bryna, who tells us about her journey back into postgraduate study, how her degrees have shaped her career path, and what it's been like to return to NTU after 20 years.
Why did you choose to study at NTU?
I chose to study at NTU because of the courses available, the wonderful staff both on the phone and in person who advised me prior to the interview and at the interview as well as the convenient location. I had visited other Universities but the students of NTU were genuinely happy to be there this coupled with the content of the course made my decision easy. Of course, once I attended myself, I fell in love with everything about NTU, the student community, the help and support from lecturers and library staff alike, and the amenities.
I completed my first degree in Biomedical Science in 2001 with Honours at NTU's Clifton campus and returned in 2003 to undertake a BA in Law at NTU's City campus. I completed my first year but due to unforeseen circumstances did not complete my second year.
During the height of Covid, I was reflecting on my work life and felt I need to do more. There was still more in me that needed to be brought to the world and so again, even though I did look at other creative writing courses, found that NTU course was the best. I could study part-time and not give up my day job. The yearly NTU student anthology allows all students who wish to participate, the chance to publish their work.
I returned to NTU's Clifton campus twenty years after first graduating and I was home. The buildings have been modernised and the courses expanded, but the commitment to excellence and friendly, helping community nature of the staff and fellow students remains.
I was the pupil in Year 10 who went to the career adviser and asked which order should I pursue each of the careers on my list. I believe boxes are for things, not people.
Everything I have done and all I continue to do has been during and continues to be used in my working life. Nothing has been wasted!
I am this and that, not this or that and NTU enabled and continues to enable me to be all of who I am.
I am due to graduate with my MA in Creative Writing in December 2023 and I have recently enrolled on a short course in interior design for beginners with NTU over the summer of 2023.
I have yet to find a career I want to pursue that NTU does not have a course for. The excellence continues.
What did you learn – both inside and outside of lectures?
Having the right person(s) on your team makes the difference between success and failure.
What still makes you smile when you look back?
My memories of the old Erasmus Darwin Building.
What does your current day involve?
I work full-time as a civil servant during the day Monday to Friday and write in the evenings and at weekends.
What attracted you to return to NTU to study an MA in Creative Writing?
I was able to continue to work full-time (important because I have a fully functioning life and responsibilities outside of university) and study part-time attending rather than online and I had the opportunity to publish my work in the MA student anthology. I was familiar with the ethos of the institution and liked the course's options which also exposed me to agents and other successful authors and writers who chose to remain in academia.
How have your degrees influenced the direction of your life?
My Biomedical Science degree and the start of my law degree led to the Civil Service (various roles in advice and guidance) and most recently a career in law enforcement. My current MA Creative Writing and the upcoming summer course in Interior Design are leading me into the world of entrepreneurialism as an author, poet, podcaster, blogger and interior decorator / designer.
What challenges have you faced?
Hard to say, I don't see challenges I just see opportunities to grow. I changed my perspective after overcoming a series of health issues over the last 15 years and so I see only growth. I am unstoppable!
What have been the highlights and biggest challenges of your career/postgraduate study so far?
Time management - I work full-time and study part-time as well as an array of extracurricular activities I do. I changed job roles and reduced my working hours and pay to accommodate my postgraduate study. I have had to reduce and postpone / put some things on hold so that I accommodate all the things I am doing without burnout, such as swapping time off for pleasure for time off work to complete assignments. I make that point to say it is ok to reprioritise the things in your life, you can always add them back later as other tasks are completed.
What are your plans for the future?
I have a weekly blog called "Conversations with Father" out now and a podcast of the same name starting on Wednesday 7 June 2023 airing at 1 pm GMT. I am also currently working on a series of new books; the first is due out in early 2024. I will also continue to pursue my career as an interior decorator / designer.
If you had a time machine, what would you go back and tell yourself at uni?
Be bolder, join more student societies and commit to trying out every opportunity that comes your way even if it doesn't seem relevant at that moment; because it will teach you a new skill or at least something about yourself you didn't know before that you will need later in your life.
Finally, is there anything else you would like to share?
Never settle, it is never too late for a change. While you are alive do all you desire to do and become your best self. You are unique and needed in this world. Be you!
Bryna's blog: Conversations with Father
Creative Writing courses at NTU
Our seasoned community of writers, poets, authors, researchers, linguists and guest lecturers will guide and inspire you, consolidating your skills and knowledge.
NTU graduate?
Stay connected with the NTU alumni and supporter community.
Still need help?
+44 (0)115 941 8418
Related student profiles
STUDENT PROFILE

Philosophy (by research)

United Kingdom

https://www.ntu.ac.uk/study-and-courses/courses/our-students-stories/arts-humanities/adam-dorsey

STUDENT PROFILE

Research degrees in Arts and Humanities

United Kingdom

https://www.ntu.ac.uk/study-and-courses/courses/our-students-stories/arts-humanities/amy-williams

STUDENT PROFILE

Creative Writing

United States of America

https://www.ntu.ac.uk/study-and-courses/courses/our-students-stories/arts-humanities/ashley-silvey