Do meerkats empathise with people? Researchers investigate whether the social animals detect and respond to human emotion
Scientists are investigating whether meerkats detect emotions from people such as happiness, sadness or anger and then adapt their behaviour accordingly.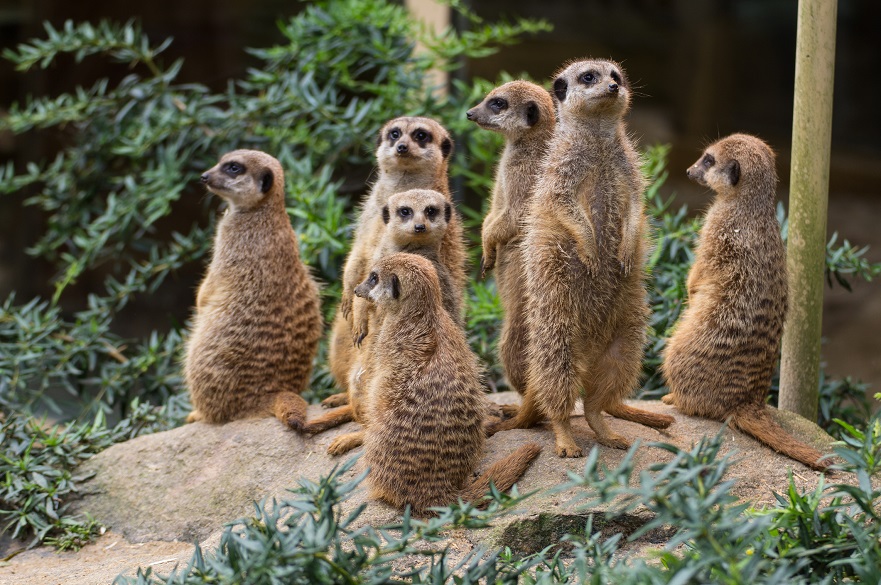 A team of zoo animal welfare researchers and psychologists at Nottingham Trent University wants to better understand the potential impact people have on zoo animals and how this can then help to improve our understanding and management of different species.

The university has received funding from the Leverhulme Trust for the three year project.

The researchers will be monitoring the behaviour and interactions of meerkats both with zoo visitors, who the animals are unfamiliar with, and zookeepers who they see regularly.

They are keen to see how the animals react to different people and whether they demonstrate empathy by mirroring their emotions.

It is already believed that domesticated animals such cats, dogs and horses are able to understand how people feel, but less is known about wild animals housed in zoos.

Meerkats are highly attentive to their surroundings, including to zoo visitors, and commonly interact with both familiar and unfamiliar people on a regular basis as part of animal-visitor experiences and so are considered the perfect species to focus on.

The researchers hope it will provide a step forward in being able to better understand the mechanisms of 'human-animal interactions' and our evolutionary understanding of animal minds.

It is believed that knowledge of the way in which people's feelings prompt changes in animal behaviour could have implications for the successful management of zoo animals.

"Wild animals housed in zoos undergo daily interactions with familiar and unfamiliar people and this presents an ideal opportunity to see if they recognise human emotions and in a sense 'catch' them," said Dr Samantha Ward, a zoo animal welfare researcher in Nottingham Trent University's School of Animal, Rural and Environmental Sciences.

She said: "We're keen to know whether these abilities might be influenced by the frequency of human-animal interactions, as might be the case with strangers, or familiarity with known people such as zookeepers.

"For example, if zookeepers influence the behaviour of meerkats but the visitors do not then this could impact the management of the animals. If it's the people rather than the zookeepers then that could be considered when undertaking measures such as enclosure design."

Dr Annika Paukner, Associate Professor in Comparative Psychology in Nottingham Trent University's School of Social Sciences, said: "Our study combines expertise in zoo biology and human-animal interactions with psychology and comparative cognition.

"The recognition of others' emotions is vital for effective interactions across social animals, including humans. People are so sensitive to others' emotions for instance that interacting with an anxious person may increase one's own anxiety.

"It is important that we understand how common this ability is among animals, and what the implications are for human-animal interactions."
Notes for editors

Press enquiries please contact Dave Rogers, Public Relations Manager, on telephone +44 (0)115 848 8782, or via email.

Nottingham Trent University (NTU) received the Queen's Anniversary Prize for Higher and Further Education in 2021 for cultural heritage science research. It is the second time that NTU has been bestowed the honour of receiving a Queen's Anniversary Prize for its research, the first being in 2015 for leading-edge research on the safety and security of global citizens.

The Research Excellence Framework (2021) classed 83% of NTU's research activity as either world-leading or internationally excellent. 86% of NTU's research impact was assessed to be either world-leading or internationally excellent.

NTU was awarded The Times and The Sunday Times Modern University of the Year 2023 and ranked University of the Year in the Whatuni Student Choice Awards 2023. It was awarded Outstanding Support for Students 2020 (Times Higher Education Awards), University of the Year 2019 (Guardian University Awards, UK Social Mobility Awards), Modern University of the Year 2018 (Times and Sunday Times Good University Guide) and University of the Year 2017 (Times Higher Education Awards).

NTU is the 5th largest UK institution by student numbers, with approximately 40,000 students and more than 4,400 staff located across five campuses. It has an international student population of 7,000 and an NTU community representing over 160 countries.

Since 2000, NTU has invested £570 million in tools, technology, buildings and facilities.

NTU is in the UK's top 10 for number of applications and ranked first for accepted offers (2021 UCAS UG acceptance data). It is also among the UK's top five recruiters of students from disadvantaged backgrounds and was the first UK university to sign the Social Mobility Pledge.

NTU is ranked the second most sustainable university in the world in the 2022 UI Green Metric University World Rankings (out of more than 900 participating universities).
Published on 25 September 2023
Subject area: Animal, equine and wildlife
Category: Press office; Research; School of Animal, Rural and Environmental Sciences