Hedgehogs in hibernation: what are their chances of survival?
Everyone enjoys seeing hedgehogs in their garden during those long, warm summer evenings – but have you ever worried about how they manage to get through the cold winter months amid reports of their decline in numbers?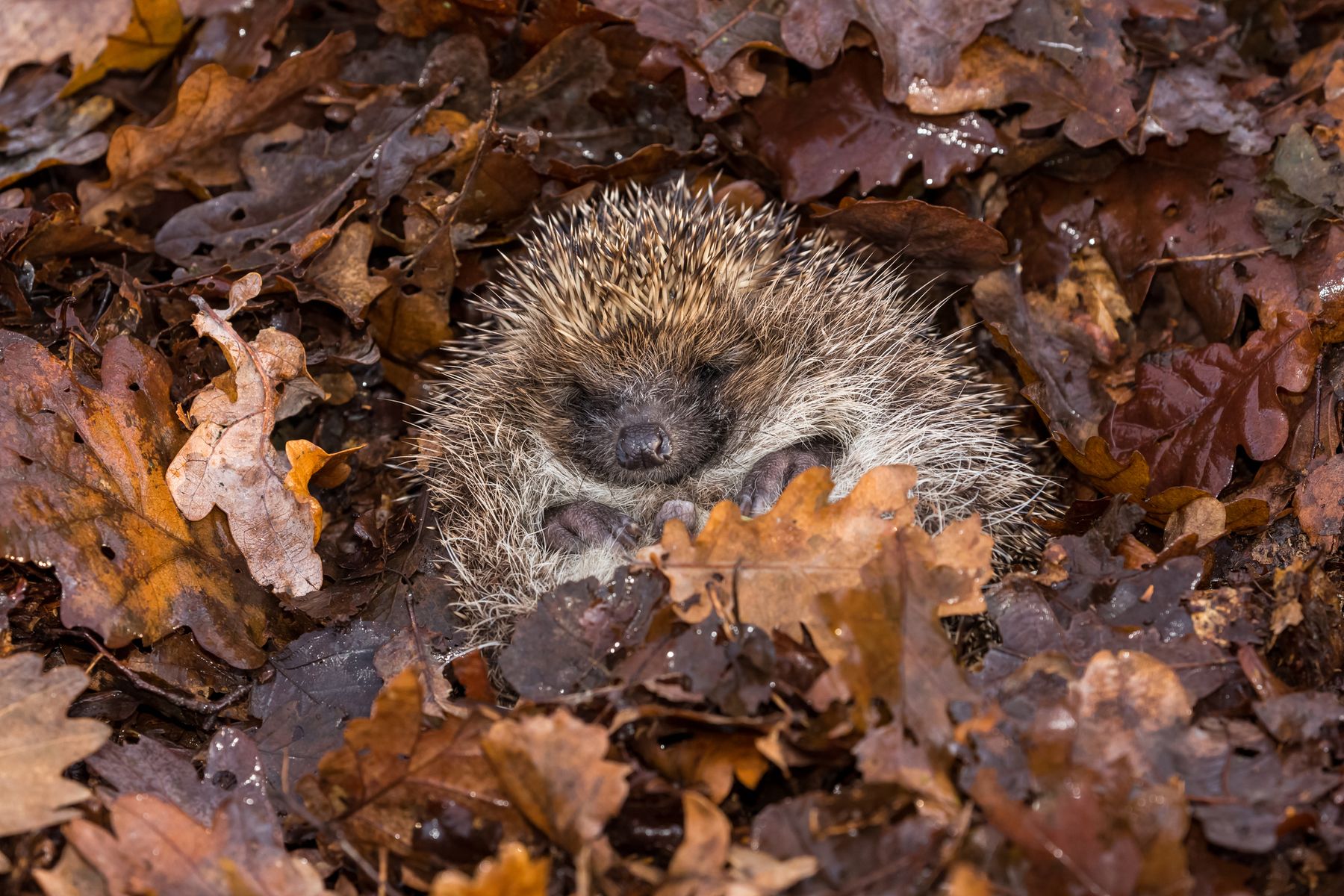 Studies suggests hedgehogs are in decline across Europe – by 50% over the last 10 years in open countryside, and about 30% in urban areas – and there could be fewer than one million left in the UK.
Now, a research team led by Hartpury University's resident hedgehog expert Lucy Bearman-Brown has uncovered fresh evidence about the impact of hibernation and the environment on the survival on rural populations.
The new study, which has been published in the Animals online journal, found that hedgehogs living in rural environments appear to be more at risk immediately before and after the winter hibernation period than during the hibernation period itself.
Lucy, the lead author of the report, carried out the research with Dr Philip Baker and Dr Luke Evans from the University of Reading, Professor Dawn Scott from Keele University, and Dr Richard Yarnell and Dr Antonio Uzal from Nottingham Trent University, and was funded by the People's Trust for Endangered Species (PTES) and the British Hedgehog Preservation Society.
"Hedgehogs have declined markedly in the UK in recent decades and one key stage that could affect their population dynamics is the annual winter hibernation period," said Lucy, Senior Lecturer in the Animal Department at Hartpury University.
"Despite its potential importance and given the wide range of ways in which human activities could affect this phase, little research has been conducted on the hibernation behaviour of hedgehogs in Britain in the last 40 years.
"Therefore, we radio-tracked 33 hedgehogs from two contrasting rural populations in England – at Hartpury and Nottingham Trent University's campus near Southwell in Nottinghamshire – to examine patterns of winter nest use, body mass changes and survival during hibernation.
"None of the hedgehogs that we monitored died during hibernation, which might be surprising. In fact, all deaths occurred prior to or after the hibernation period, mainly from predation or vehicle collisions."
Nida Al-Fulaij, Grants Manager for PTES, added, "Lucy's research is really important. We can now focus our efforts on investigating what farm management practices, particularly of hedgerows and scrubby areas, can help give our rural hedgehogs the best chances of surviving hibernation.
"Ensuring hedgehogs and other wildlife have access to plenty of secure foraging and nesting areas is going to be critical."
Lucy explained that during hibernation, which typically lasts from November to April in the UK, hedgehogs face many specific challenges, including the need to have accumulated sufficient fat reserves to survive for many months with limited food.
They need to find enough appropriate building material, such as the leaves of broadleaved trees, to construct a hibernaculum that will maintain an appropriate temperature within the nest.
The local area must also be sufficiently diverse that it offers a variety of nesting locations close to one another so that hedgehogs can relocate safely if they are disturbed by humans, predators or a change in conditions, such as flooding.
Changes in temperature patterns throughout winter may also cause hedgehogs to rouse from hibernation when natural food availability is limited, which can make them vulnerable to starvation.
Lucy said: "Hibernation success is dependent on several factors, all of which may be negatively affected by agricultural intensification and/or climate change.
"Our research found that hedgehogs consistently nested close to some habitats, including hedgerows and woodlands but avoided others, such as pasture fields.
"Our data suggests that hibernation was not a period of significant mortality for individuals that had reached a sufficient weight in autumn, but that habitat composition did affect where nests were built.
"Therefore, land management practices – both historic and current – that provide hedgehogs with access to vegetated areas is likely to positively influence hibernation success and the survival chances of hedgehogs."
Lucy added: "For our study, data could only be reliably collected from radio-tagged individuals and radio-tags can only be fitted to animals weighing more than 600g for welfare reasons.
"Current guidance is that hedgehogs weighing less than 450g by October are unlikely to survive hibernation and may need help, which can be provided by wildlife hospitals.
When asked what members of the public can do to care for hedgehogs in their gardens over winter she said: "Providing nesting places, such as bushes, shrubs and wild areas, leaving leaf litter around and offering fresh water and food such as cat biscuits can all really help.
"Connecting your garden to neighbours' will allow them to move around safely to find new nesting places. There are also a range of hedgehog houses on the market which can provide suitable nest sites."
Lucy's other research includes helping to train a special 'detection dog' to sniff out hedgehogs so they can be protected or moved out of harm's way in land development projects.
Richard Yarnell, Associate Professor in Ecology said, "This research suggests that hedgehogs are relatively safe while hibernating in their winter nests, but face greater risks of mortality when they are active from human causes such as road traffic accidents.
"Further research is required to understand if predicted milder and wetter winters from climate change will impact hedgehogs over-winter survival. During warm winters hedgehogs are less likely to hibernate, increasing their chances of being killed while active in the countryside, adding further pressure on already declining hedgehog populations".
Notes for editors

Press enquiries please contact Dave Rogers, Public Relations Manager, on telephone +44 (0)115 848 8782, or via email.

NTU was named University of the Year 2019 in the Guardian University Awards. The award was based on performance and improvement in the Guardian University Guide, retention of students from low-participation areas and attainment of BME students. NTU was also the Times Higher Education University of the Year 2017, and The Times and Sunday Times Modern University of the Year 2018. These awards recognise NTU for its high levels of student satisfaction, its quality of teaching, its engagement with employers, and its overall student experience.

The university has been rated Gold in the Government's Teaching Excellence Framework – the highest ranking available.

It is one of the largest UK universities. With nearly 32,000 students and more than 4,000 staff located across four campuses, the University contributes £900m to the UK economy every year. With an international student population of more than 3,000 from around 100 countries, the University prides itself on its global outlook

The university is passionate about creating opportunities and its extensive outreach programme is designed to enable NTU to be a vehicle for social mobility. NTU is among the UK's top five recruiters of students from disadvantaged backgrounds and was awarded University of the Year in the UK Social Mobility Awards 2019. A total of 82% of its graduates go on to graduate entry employment or graduate entry education or training within six months of leaving. Student satisfaction is high: NTU achieved an 87% satisfaction score in the 2019 National Student Survey.

A total of 82% of its graduates go on to graduate entry employment or graduate entry education or training within six months of leaving. Student satisfaction is high: NTU achieved an 87% satisfaction score in the 2019 National Student Survey.

About Hartpury University

Hartpury University, home to more than 2,000 students, offers undergraduate and postgraduate degrees in Sport, Equine, Animal, Agriculture and Veterinary Nursing, as well as postgraduate research and PhD qualifications.

Research at Hartpury is fully integrated within teaching, with staff research active in the areas in which they teach and many dissertations embedded in larger scale research projects.

All research activity either directly or indirectly informs not only current industry practice but also the curriculum.

Students at Hartpury University have access to the largest equine educational establishment in the world, cutting-edge sports facilities, an extensive animal collection, an animal therapy centre, science laboratories with industry standard equipment and a fully working farm.

It is the only educational institution in Gloucestershire to be awarded Gold in the Teaching Excellence Framework (TEF), which ranks providers based on their teaching and learning for students, putting it among the top higher education providers nationally.

In addition, 98% of graduates from Hartpury University are in employment or further study within six months after graduating (HESA, 2018).

Hartpury University was ranked third in the UK for part-time student satisfaction in the Postgraduate Student Experience Survey 2019 and voted in the top 20 per cent of UK universities by students (WUSCA, 2020).

About PTES

PTES, a UK conservation charity created in 1977, is ensuring a future for endangered species throughout the world. We protect some of our most threatened wildlife species and habitats, and provide practical conservation support through research, grant-aid, educational programmes, wildlife surveys, publications and public events.
PTES' current priority species and habitats include hazel dormice, hedgehogs, water voles, noble chafers, stag beetles, traditional orchards, native woodlands, wood pasture and parkland and hedgerows.
PTES has Species Champions for three of its priority species: for hedgehogs The Rt Hon Chris Grayling, MP for Epsom & Ewell, for water voles The Rt Hon Hilary Benn, MP for Leeds Central and Chair of the Brexit Select Committee, and for dormice The Rt Hon Matt Hancock, MP for West Suffolk and Secretary of State for Health and Social Care.

About BHPS

BHPS is a UK charity founded in 1982 dedicated to helping & protecting hedgehogs native to the UK. They run a helpline offering advice on caring for & encouraging hedgehogs in the wild and in gardens. They aim to educate the public on how best to help hedgehogs and fund research into the behavioural habits of hedgehogs to ascertain the best methods of assisting their survival.
Visit www.britishhedgehogs.org.uk/ and follow BHPS on Facebook or Twitter.
Hedgehogs in hibernation: what are their chances of survival?
Published on 27 October 2020
Subject area: Geography, horticulture and environment
Category: Press office; School of Science and Technology
Still need help?
+44 (0)115 941 8418